Joined

Jun 24, 2020
Messages

804
Points

93
It was a long journey beyond the riddles of the ruins and the search for the answer of our mysterious fairy, but the revelation has finally come, along with the strongest final boss that even the Ravaging Queen can't compete with! However, what comes before an exhilarating impossible-looking battle is the power of friendship - and here, not only is the power of friendship coming into effect but the power of my core items!
After grinding for a long time, I've finally come to reconsider that I'd item rebuild Rose Bomb, and look at the result - an OP core item! (even the final boss battle can't handle this...) I also made sure it had Critical+ to double the damage and Enhance Finisher+, Merciless Strike to immediately kill stunned enemies. The EV-Effect - Bubbling Seal, was to slow the enemy and it came from Bubble Bullet!
For Tao, he was the one in charge of the support items and the Elixir is clearly, another OP core item that not only revives and heals allies... but gives AP too! I also gave the Elixir traits that gave ATK, DEF, and Healing+ so that Tao won't die immediately while improving the Elixir's uses. The EV-Effect - Sweet Blessing, came from Dry Biscuits... or so I think, maybe. Lent isn't really good for core items so I gave him two Genisis Hammer and Dry Biscuits to become a stunner and second support.
Lent is an S-tier when it comes to physical damage, yet useless to those who resist physical damage. In the middle game, I made sure that he had everything ready - ominous pressure (ATK+ DEF-), defense+ from armor, and an S weapon - all reinforced! After that, Lent, who's like a product, was served in a den of monster to level up!
Tao is a B-tier party member when it comes to physical damage, but backs it up with quick speed, AP gather, and immediate T.Lv increase! He can also wield big core items, but not as much as Ryza can.
Ryza is already an S-tier character - balanced, and no core item limit! I made sure that her S-weapon had Lone Wolf Spirit so that she can gather even more AP from doing basic attacks (I know this could have been better for Tao... my bad.) Anyway, her accessories contain ominous pressure, stat charge, and greatly improving core items (basically, without the traits, they are for making core items useful.) In addition, out of all seven party members, only Lent, Tao, and Ryza have the best gears. LOL
Now, you can beat the Legendary Monarch!
---
I've also solved all the ruins mystery and have gotten all of them 100% (excluding Ethereal Dragon's Coffin because you can't get the two memory fragments and memories before you finish the game.) and all side quests for side characters and main characters have been dealt with by the time I've made it to the final boss. Pretty easy, actually, but gets boring easily! In addition, I've played many RPGs that had to do with completing the map too so this isn't the first time I've done things like these! I had fun completing the mysteries and beating shadow bosses.
Because of being a person living on a poor bumpkin island, I've been forced to work by handling different quests which also increased my reputation from different types of people just like Atelier Rorona, Totori, Meruru, and so-forth! I really liked this system of having a discount and higher difficult quest in case you need money, and in case, you want to lower the prices to save money! Seriously, if I compare now-and-today, Rorona with its time limit is scary. I mean, if you don't finish before the deadline, then god-knows-what might happen. However, the main quests aren't really about solving people's requests so there is no penalty to not doing the quests, but the major of town will actually visit you if you don't do any quests and lecture you. Seriously... scary as hell.
Moving on, the combat mechanic is pretty satisfying and fast-paced and has similarities to the Tales series, The Caligula Effect, Final Fantasy, Ni no Kuni, and Legend of Heroes: Kuro no Kiseki! I've never felt so eager to become attentive in order to avoid big damages by guarding and making calculations as every second pass. I really enjoyed it so much! Other than that, there were so many features I had in mind that could have made the game even better! But I think it is fine the way it is.
The story itself isn't really brilliant, so to say, it is mediocre but at the same time, emotional. Being able to support a character, being able to feel the same way as the character, getting immersed, and laughing outside as you see your characters in a monitor do something stupid. What can I really say? It just means that they have achieved creating a story!
8/10! Good!
This is my saved data - feel free to ask for my saved data if you want to play the game by doing a new game+. However, I recommend not doing it. Also, I'll post the final boss + ending video here that I'll upload on youtube! From here on out, I'll also be going on a new journey by playing Atelier Rorona up to Atelier Lulua! And then commemorate the 24th anniversary this May, 23! By playing the beginning of the Atelier series... or not, well, there are plenty of ways to celebrate!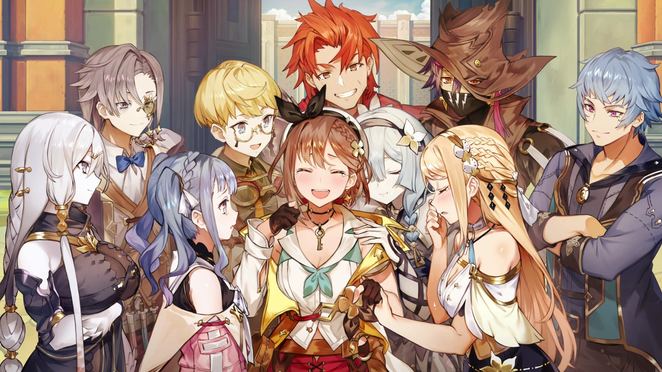 See ya, everyone!
Last edited: